ALS Agri Lending Solutions Pty Ltd
---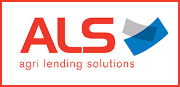 Here To Help Your Farm
Your own hard work and ALS - the two things you can rely on. Our clients love the land, working tirelessly to build on the legacy they have been given. Even when the weather is unreliable, the economy is under stress, and the old equipment is getting tired, you can trust that Agri Lending Solutions will stick by you to bring new energy to your farm.
Agribusiness Loans That Work
Because our staff know agribusiness, we can find the right loan for you. No need to wade through reams of paperwork or try to decipher lawyer-speak - the ALS team is more than happy to communicate the details with a minimum of fuss, showing you how your options relate to your specific needs. We even consult with your accountant to ensure an optimal tax advantage. Make sure you have the agricultural machinery you need, brace yourself through a challenging harvest, or set yourself up for a new period of growth.
Safe And Secure
Your family's future is in good hands. The team at ALS will walk you through all your commitments, helping you choose lending solutions that work, and putting you in control of the financial aspects of your farm.
Restructure Debt
Refinancing
Competitive Lending Options
New Loans
Funding For Growth
Strategic Planning
Stay In Charge With Help From Agri Lending Services. Book A Consultation Today.