Bill Ower Real Estate
---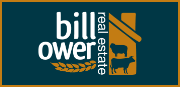 2 Jardwa Court
Horsham 3400
Are you looking for a property to purchase?
Or maybe you're looking to put your home on the market?
With over 40 years of industry experience, Bill Ower Real Estate is your number one choice within Horsham and the surrounding areas.
As a proud local, Bill is an expert in all aspects of the property market and his professional yet friendly approach makes the whole process effortless and stress free.
As the leading authority in the industry he specialises in:
Rural sales and leases
Lifestyle properties
Based in Horsham since 1972, Bill has a wealth of knowledge of the local areas and can provide you with information on everything from rain fall records to soil health.
Whether you are buying or selling, he will work with you to make sure that all of your needs are met and you achieve the very best outcome.
If you are looking for the best in the business then give Bill Ower Real Estate a call today!