Cruisers Car Wash
---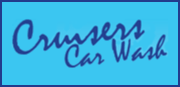 28-30 Darlot Street
Horsham 3400
Does your car need a good thorough clean?
Perhaps you want to give your fur baby some extra special attention?
At Cruisers Car Wash we make your car or dog washing needs easy and effortless!
Did you know that keeping your car clean and using a professional car wash helps the environment? We are able to treat and recycle the water used rather than it simply going into the storm water drains.
Our friendly and professional team are on hand to assist you in any way we can and we offer a range of services to suit all needs and budgets.
On site services include:
Wash for you
Manual bays
Automatic wash
Dog wash
Car detailing
Vacuuming
Vending products
Our 'Wash For You' service is suitable for customers that are unable to manage their own clean and may need assistance with their wash, particularly our elderly and disabled clientele. If you need us to help, phone ahead and we will have someone available for you.
As a way to give back to our loyal customers we offer a Washcard incentive reward program for both personal and fleet use. This provides you with ease and convenience at each visit and added bonuses each time you spend.
Our car wash is open 24 hours a day 7 days a week with attendants on site every day during business hours. If you want the cleanest car in town be sure to visit us today!
"Lovely service from the Owner this morning. Vacuum wasn't working. I used a different vacuum and then he insisted on washing my car for me. THANK YOU!"– Melissa