Depta Grove
---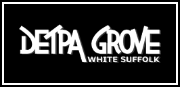 961 Lorquon Road
Nhill 3423
Are you a farmer looking for quality bred sheep?
Look no further than Detpa Grove! Founded in 1981 we have years of experience in the industry, so we know how to produce the very best livestock. We continually aim to improve performance and productivity on sound structured sheep, to provide high quality flock rams to prime lamb producers, and sound breeding stock to stud breeders.
When working with us, we guarantee:
Modern technology
Participation in health and quality assurance programs
Annual and biannual sales
Incredible performance of our stock within other studs
Our customers are our number one priority, so with us you know you're in safe hands. We want your livestock to be the best quality on the market. Our clients consistently outstanding feedback is what keeps our company running, and we cannot wait to hear yours. If you have any enquiries about our services, be sure to give our friendly staff a call!