D&K Gardening & Maintenance
---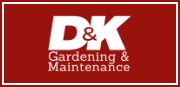 42 Stawell Rd
Horsham 3400
Opening Hours
24 Hours a Day
7 Days a Week
Do you have a garden or handyman job that you've been avoiding?
Let the guys at D&K Gardening & Maintenance help! We can help you manage all of those jobs you hate to do, so you can spend more time doing the things you love. With years of experience, we work to the highest of standards in both quality and safety, giving you peace of mind every time.
Also, have you unwanted "graffiti" or also known as "tagging" on your premises, vehicles, structures or the like? We at D&K are always expanding in different areas that are not commonly enjoyed tasks to complete; Graffiti removal is one of those that takes time and sometimes more money and damage then just leaving the graffiti on the vandalised area. Please note: we will always endeavour to give full information and risks involved with any task where deemed necessary.
"Thank you guys for all your help. Fast and easy to deal with" – Yolanda
No matter your needs, we've got you covered for a range of projects including:
Garden Maintenance (mowing, trimming, spraying, weeding)
Dwelling Vacate Cleans
Rubbish Removal
Furniture Removal
Gutter Cleaning
Skylight Cleaning
Solar Panel Cleaning
Window Washing
Graffiti Removal
Handyman Jobs
We pride ourselves on our excellent reputation and are known for our reliability, affordability and quality workmanship. No job is too big or too small for us to handle, and it will always be completed professionally and with a smile.
For more information or to arrange a quote, give us a call today!