GWM Water
---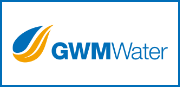 11 McLachlan St
Horsham 3402
Opening Hours
Mo-Fr: 8:00am-5:00pm
Sa-Su: Closed
At GWM Water we provide and manage water supply and sewerage systems to ensure a productive and liveable region for our community.
We're involved in every stage of the water process, from when it falls from the sky to when it comes out of the tap. We know a lot about water, wastewater and water management - that's why we're so confident in our ability to provide the best services for the Grampians, Wimmera and Mallee regions.
Contacts us for:
Urban water supply and wastewater services
Rural water supply
Recycled water
Groundwater and surface water licencing
Billing and general enquiries
Using our lakes and reservoirs
Sponsorship and water education requests
Call us for Billing and General Enquiries on 1300 659 961 during business hours or report Difficulties and Faults by calling 1800 188 586 any time.