Horsham RSL
---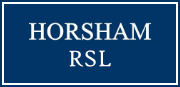 36 McLachlan Street
Horsham 3400
Opening Hours
Mo-Sa: 10:30am-Late
Su & P/Hols: 11:30am-8:30pm
Are you passing though Horsham and looking for a great place to stop and eat?
Or are local and looking for some delicious lunch or dinner options?
Horsham RSL offers a large selection of dine in meals to choose from that are fresh and wholesome. Our club has a welcoming atmosphere that both guests to our town and locals love and enjoy, where you can have a drink or a bite to eat and soak up some of the town's history.
We have a lot on offer for our community including:
Bingo sessions
Memorial services
Memorabilia displays
Functions and events
Competitions
Full menu
Our aim is to bring people together and our friendly team work hard to be able to provide you with the best service at the best prices.
So, if you are wanting to stop in and have a meal with family and friends, Horsham RSL is the place for you!
Open 7 days a week, why not give us a call or come in and visit with us today!
"Excellent family atmosphere. Staff are beautiful and amazing" – Lowana