Horsham Rural City Council
---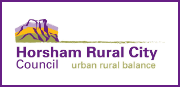 Civic Centre
18 Roberts Ave
Horsham 3402
Opening Hours
Mo-Fr: 9:00am-5:00pm
Sa-Su: Closed
Are you planning to visit or perhaps move to the Wimmera Region?
Whether you are holidaying or planning to make a permanent move, Horsham Rural City Council can provide extensive information that will help answer any questions you may have.
Horsham is a vibrant and diverse community that boats natural scenery as well as wonderful local businesses and organisations that keep our town thriving.
Our experienced council staff are available to help you and provide you with knowledge on anything you may need to know including:
Events & education
Environment and sustainability
Public health
Planning & development
Infrastructure
Tourism
Pets and animal welfare
Roads and transport
Waste management
Our office operates from Monday to Friday and our knowledgeable team are more than happy to help guide you to the right department in order to ensure all of your questions are answered promptly and efficiently.
We take great pride in our community and our priority is ensuring all visitors and residents are safe, happy and well informed. And, we work hard to ensure that both locals and guests to our town fully immerse themselves in the beautiful lifestyle we have to offer.
For more information on how we can help you, please visit our website or give one of our friendly staff a call today!