Lane Building
---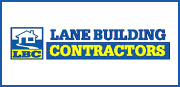 4061 Henty Highway
McKenzie Creek 3401
Are you looking to build a quality home by an award-winning builder?
Lane Building Contractors have been helping people just like you move into a beautiful new home for over a decade.
Here at Lane Building Contractors we are known for our attention to detail in building quality, custom designed homes in the Horsham area. We pride ourselves on our great reputation and professional team.
Our clean and safe worksites will ensure that your home is built under the best conditions, and our incredible presentation and workmanship will leave you in awe.
When building your home, we promise to provide:
Emphasis on our recycling program
Quality construction
Quality design
Value for money and innovation
A great client relationship
We build every style of home to ensure that we create the look you desire. Working with Lane Building Contractors means you will be building with people you can trust.
So, If you're looking to build in the Horsham area and want reliable, accredited Master Builder Green Living builders, then give our friendly staff a call today!