Lesters Automotive
---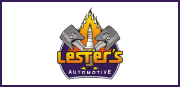 180 Firebrace Street
Horsham 3400
Are you looking for a local and reliable automotive repair centre?
Lester's Automotive is here to provide you with the best care for your car!
With our fully qualified team and excellent customer service, your vehicle is in safe hands. We take pride in creating a great relationship with our customers and go above and beyond to make sure you're satisfied.
Here at Lester's Automotive we provide:
General repairs and servicing for all makes and models
Dyno Tuning
Injector cleaning
EFI systems and LPG
Whether you're passing through Horsham, or a local resident, we are here for you and your vehicle. Our quality workmanship and excellent customer service is sure to impress. At Lester's Automotive we're not happy until your car is running at it's best.
If you have any enquiries about our services, or want to book in, be sure to give our trusted staff a call!
"Unreal service, very down to earth and take a lot of pride in their customer service. Highly recommend and will continue to do business with them!" - Tom