Michaels of Donald
---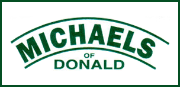 15 McCulloch St
Donald 3480
Opening Hours
Mo-Fr: 7:30am-5:30pm
Sa-Su: Closed
When Looking For Vehicles, Don't Drive All Over The Countryside!
Right here in Donald you'll find Michaels, with quality vehicles for all kinds of uses. With carefully selected cars and heavy machinery that we need out here around the Horsham area, you are bound to discover the most suitable choice for your needs. Our staff live right here, bringing neighbourly sincerity and old-fashioned customer service to puts you first. This is no flashy showroom; this is an established family business built on quality and personalised attention.
The Best Names
Michaels are famous for being Ford and JCB experts; our staff know these brands inside and out. By stocking only the highest quality vehicles and machinery, we can stand by our products and guarantee your satisfaction for years to come. Over the past four generations, Michaels has committed to providing locals with the right vehicles for the job - every time. Our service centre ensures all vehicles are in excellent condition, and our technicians work tirelessly towards this effort.
Second-Hand But Second To None
Our second-hand sales can save you thousands. Conveniently, our available trade farm machinery stock is showcased online, allowing you to compare, contrast and select what suits your situation best. This list is just to get you started - get in touch to see what we have!
Spare Parts
Used Equipment Hire and Sales
New and Second-Hand Vehicles
Agricultural Machinery
Seeders
Spreaders
Combination Vehicles
Harvesters
Earthmoving
Loaders
A Trusted Local Name Finding You The Equipment You Need - Call Michaels of Donald Today!