Porky's Tassie Tyres
---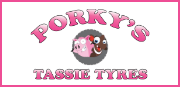 103 Firebrace St
Horsham 3400
Opening Hours
Mo-Fr: 8:00am-5:30pm
Sa: 8:00am-12:00pm
Su: Closed
Have you suffered a flat tyre? Do your tyres need to be changed?
With over 25 years of industry experience Porky's Tassie Tyres are the local tyre specialists and your number one choice. Our team have a lot of knowledge when it comes to tyres and we know what will work best for you and your vehicle. As locals we also know how important it is to look after your customer and your community and aim to give the best very in friendly and professional service.
When you choose us, we can help you with all a variety of tyre services including:
Agricultural
Trucks
Cars
Wheel balancing
Repairs
Our years of experience means that we can always point you in the right direction and give you the best advice based on your vehicle. We also understand that budget is important so we will always look after you and find the right products at the right price. Open 6 days a week, we are here to answer any of your questions or get you out of a jam if you get stuck. For more information on how we can help or to book in for one of our services, give us a call today!
"Great friendly family-based service. Paul supplied new tyres for a friend's Magna 3½ years ago. Today he re-rotated and rebalanced them as they had reached 40k klms. Not bad for a front wheel drive. It worked out at less than ¼ cent per kilometre per tyre." – Georgie Jack